We Trust Forrest
$100.00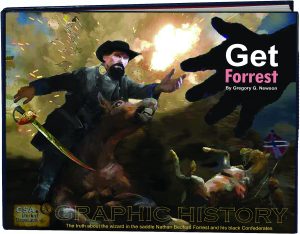 The image story is located in this book CHICK HERE
Nathan Bedford Forrest with other sharecrops made deals who owned land and supplied their collaborative farmers with shelter and a measured parcel of land, and also all the inputs like grains, fertilizer, and farm implements essential to grow crops. Southern farmers who owned the plantations specified the exact plants to be grown and monitored the workers who farmed in the plantations. In return, the sharecroppers assisted on the plantations right from the planting of the seed to the harvesting of mature fruits. After harvesting, all of the produce was handed over to the farm owner, who traded it for money. After taking away the money spent on farm inputs which he had funded from his purse, the farmer divides the rest of the gains and gives to sharecroppers. The latter, most times get a range of 1/3 and one-half of the net gains made.
Giclee canvas print size; 23″ x 21″
At the end of the American Civil War which lasted from 1861 to 1865, southern farmers and ex-soldiers like Nathan Bedford Forrest had the problems of getting laborers to work on their farms because slaves were outlawed. Leveraging on the former slaves' willingness to possess their farmland, southern farmers who had plantations employed the methods of cropping together and allowing renters to farm on their plantations. And devised joint profit packages with the black freelance farmers to run the plantations.