Grandpa tell us about the war.
$150.00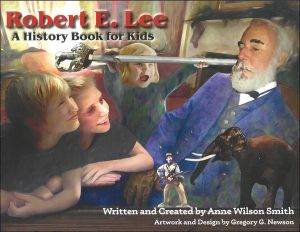 Get your personal autographed book from artist Uncle Gregory, written and created by Anne Wilson Smith explaining the American Civil War to kids.  This is a soft-cover booklet, size: 8.5″ x 11″, 32 pages. To learn more CLICK HERE
Giclee canvas print, size 22″ x 17″
A history book for kids
Robert E. Lee's grandkids surely wanted to hear about the American Civil War from their grandfather Robert, a humble man, Robert was probably had to find a way to talk about this tragic American event, a wise person always finds the lesser of two evils to tell this historical story because young people will continue to investigate the truth.