God made chickery and then the General
$150.00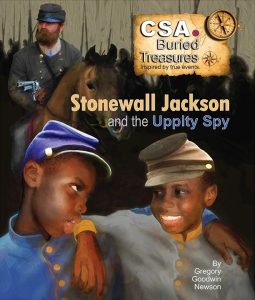 To view this book graphic novel book Click Here
It's Stonewall Jackson's true-life story written in a young adult format, Graphic novel, This is a knockoff version of the original" Uncle T and the Uppity Spy hardcover book is a semi-fictionalized story of two young twin black brothers whose life paths diverge in very different directions during the American Civil War era. The young black boy, Jim Lewis (who is based on a historical character), is chosen to be a house slave to Thomas J. Jackson (soon to become General "Stonewall" Jackson). Jim's manners intelligence and Christ-like character impress Jackson and endear the boy to him. When the war came a mature Jim served as General Jackson's trusted body servant. The two men grow closer, and Jackson respects Jim's loyalty and wisdom so much that he sometimes lets Jim serve as an adviser. Jim's brother Tyler, on the other hand, is the fictional protagonist that was a leased out field hand from General Jackson's plantation, and he suffers mistreatment at the hands of a harsh overseer and chose to join the North, which Allan Pinkerton employed him as a spy. The life of a field slave and house slave are is only different in the way they see life.
Giclee Canvas print; Sizes 36″ x 24″
The Civil War in Enbargo on your Southland of America created an absence of coffee and substitutes for coffee led to alternatives in Confederate army options, like sweet potato, rye, and chicory stood out as some of the most commonly used.
General Jackson taught a Sunday school for black people in Lexington.  At a battle in the American Civil War, a general asked Stonewall Jackson how it was he kept so cool while the bullets literally rained about him. Jackson instantly became grave, and earnestly answered, "My religious belief teaches me to feel as safe in battle as in bed. The phrase "Look, men, there is Jackson standing like a stone wall!" was used to rally the troops during the first of the Civil War General Stonewall Jackson's 16 battles, at Manassas. "By the time of the last one, his renown flashed over his own Southern Confederacy, soared over the country of his adversaries, and traveled even beyond the seas," Mr. Robertson wrote. The forecast of James Power Smith, one of Stonewall Jackson's military aides, that "The religion of Stonewall Jackson will be the chief and most effective way into the secret spring of the character and career of this strong man," is used by the author to explain this rapid rise.
The General would prey the night before any battle, and Jim Lewis His servant, and Cook knew to get his horse ready in the morning. Jackson's fervent Presbyterianism inspired his military philosophy and character. The only topic he truly enjoyed talking about was theology. His letters always praised an ever-benevolent providence. He put his fate in God's hands and went into war completely fearless, and he expected the same of everyone else wearing Confederate gray. Jackson's God grinned and gave him Joshua's strength to smite the Amalekites mercilessly. Jackson's wartime ruthlessness has either been overlooked or downplayed by earlier biographers, but Mr. Robertson emphasizes it as a source of Jackson's tenacious battlefield leadership.