I Wish I had Coffee
$150.00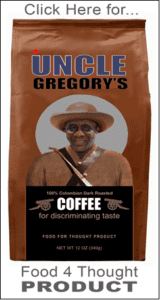 This Gourmet ground or whole-bean coffee is a food-for-thought product.  Each bag is $20  To order Click Here
In memory of black Confederate soldiers and the whole Confederate Army, This coffee was inspired by the Confederados in South America. CLICK TO LEARN MORE
Where did Southern Confederates go?
The Confederados – Emperor Dom Pedro II lured them to Brazil with offers of cheap land in an effort to learn about cotton farming. After the American Civil War, up to 20,000 American Confederates are thought to have relocated from the Southern United States to the Empire of Brazil.
I Wish I Had Coffee – Despite the Union's constraints, the blockade achieved the desired outcome as the war went on, with a decreasing amount of supplies reaching the Confederate troops. As a result, coffee, which was a common beverage in the South before the war, became a luxury for both the military and civilians.  What was the Civil War-era coffee that the South consumed? – Everything that could be collected and roasted in the field was used as a lame substitute, including chicory, acorns, dandelions, rye, peanuts, and peas.