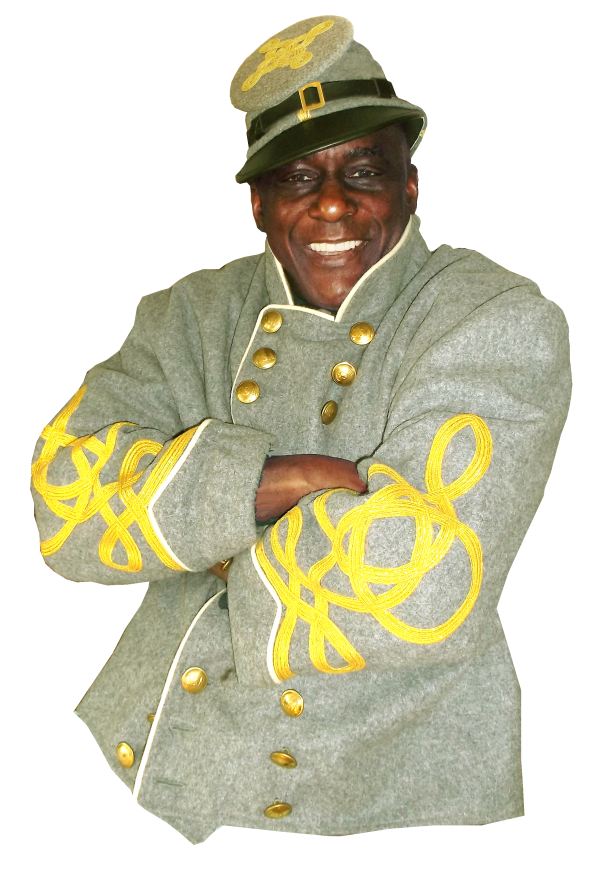 I always set out to produce art concerning the human condition and the internal civil war we all battle, and my work is always focused, direct, and straight to the point. I draw inspiration from my life as a Black man in America, and my personal struggle to find my self-identity as it relates to my race, my name, my country, and my role as an artist.
For the first twenty years of my life, unknown to me, I was trying to make a name for myself as an artist with an borrowed last name: Goodwin. "Goodwin" was not on my birth certificate as my last name, but rather "Newson," a small error my parents failed to let me know about. I had already used "Goodwin" in a few newspaper articles about my art shows and awards I was winning as an artist, and I don't know if anyone can imagine how devastated I felt trying to get a marriage license and then suddenly finding out I was not the person I had been trying to be. I thought fame was on its way, but instead I ran into a brick wall of reality. This struggle with my identity has followed me for many years.
My portfolio consists of Giclée full color prints, imprinted with words from poets like Abel C. Thomas and Walt Whitman, as well as other contemporary activists and performers. My companion semi-fictional 58-page story acts as a sales catalog for art buyers and the general public.
How this got started: It was 15 years ago when I started painting again, after dropping out of everything in life, including school. The first painting I finished was called "The Promotion"; it depicted a Black soldier who had been a cook at the beginning of the Civil War for the Confederates and then was handed a rifle. The artwork appears in my book Uncle T and the Uppity Spy on page 32. The process for this piece had many steps. First, I did a sketch and started to put together the other elements for the painting. I chose a male model, which was a friend of mine, and then I went to West Point, New York and photographed a Civil War canon. I transferred an enlarged version of that canon to a 30×32 canvas, which is called a "canvas transfer," and then preceded to paint on it with acrylics. I did a second painting, "Give Me Liberty or Give Me Death," which appears on page 40 of my book, but then the trail went cold for another 10 years. My vision for what I wanted to do was blurred. And financially, I could not entertain such lofty ideas of running way with the circus, so to speak, by dedicating my life to my art.
My Inspiration: The winners of wars always get to tell their story and the losers' version is minimized. Art has the power to make people see things in a new light. It allows us to develop a love for places and things that we would otherwise not have noticed, cared about, or thought of.
My paintings and writing draws heavily on my experience and my image–I use my own portrait as the model for the twin brothers in my book, in which one brother goes to fight for the North, and the other one fights for the South.
One afternoon, I was daydreaming after hearing a speech called "Message to the Grass Roots" by Malcolm X, about the American field and house slaves. Knowing my community and my own views on it, I started thinking about these two types of DNA in field and house slave lineage. In March 2013, I committed myself to writing and creating a book with companion artwork.
My Goal: My goal is to earn some appreciation from the die-hard Dixie Sotherners who relish the Confederate cause, from those who feel it's about time we pay tribute to the Black Confederates, and maybe from others who keenly see that the Civil War is still not over in some American communities. I hope to get a sponsored show of my artwork and sale of the companion book Uncle T and the Uppity Spy, a semi-fictional story of Thomas Stonewall Jackson and his relationship with a Black man named Jim Lewis. The book is an optimistic attempt to entertain both sides of the Mason-Dixon line. I spent a small portion of my life living in the South and I couldn't figure out, only because I failed to ask, why so many Blacks attended schools named after Thomas Stonewall Jackson, one of the great fighting generals of the Confederacy who was never defeated in battle. Why was he a hero to Black people? And why is so much of the Black Confederate soldier involvement in the Civil War minimized?
What is the combined product about? Uncle T and the Uppity Spy tells the fictionalized story of two young Black brothers whose life paths diverge into very different directions during the Civil War era. The young Black boy Jim Lewis is chosen to be a house slave to Thomas J. Jackson (soon to become General Stonewall Jackson) while living on Jackson's farm. Jim's manners, intelligence, and character impress Jackson and endear the boy to him. When the war comes, a mature Jim serves as General Jackson's trusted body servant. The two men grow close, and Jackson respects Jim's loyalty and wisdom so much that he sometimes let's Jim serve as an advisor. Jim enjoys such a strong bond with the General that he has authority beyond his station in life, and sometimes the rest of the men get jealous of the general's obvious favor toward the young man. General Jackson even allows Jim to decide on his horse, Little Sorrel, trusting that Jim understands the merit of the beast underneath the horse's ordinary appearance.
Jims brother, Tyler, on the other hand, is consigned to life as a field hand on General Jackson's plantation, and he suffers mistreatment at the hands of Jackson's harsh overseer. The life of a field hand and house slave are contrasted in the experiences of these boys. Tyler's attitude is the opposite of Jim's; he is angry, bitter, and defiant, and he is only too glad to escape and join the Union cause, fighting against his oppressors.
Eventually Union army officials recognize that Tyler has a twin who is the body servant of Stonewall Jackson, and they arrange a switch between the two young men in order to gain information on troop movements and plans from within the general's own camp. Tyler infiltrates the camp and accomplishes his mission, avoiding personal contact with Jackson, whom he is sure would be astute enough to know he is Jim's look-alike, not Jim himself. Then the twins are switched back again, and each resumes his duties on his respective side.
Much historical information is contained in the book. Stylistically, this is achieved through sidebars that give background information to explain some of the underpinnings of the fictional story. The story itself, although based on real people and real events, takes poetic license in several places. One controversial point might be the death of Stonewall Jackson by friendly fire. The book implies that the general's own spoken misgivings about slavery and the cause might have led some of his own men to shoot him.
General Jackson comes across as a sympathetic and admirable character. The book is introduced through a speech by Reverend Lilburn L. Downing, who dedicated a stained glass window in a church to General Stonewall Jackson. The window is engraved with Jackson's last words, "Let us cross over the window and rest under the shade of the trees." Reverend Downing honors Jackson's dedication to teaching Black people to read and write before the Civil War. He mentions Jackson's founding of a Sunday school for slaves and free Blacks, which was rooted in Jackson's devotion to Christianity and his belief that part of the white responsibility toward Blacks was to bring them to salvation, especially in light of what Jackson saw as their tremendous responsiveness to God.
The book and paintings try to show human beings as they are-complex mixtures of right and wrong, and capable of love even across social and enemy lines.
Past Accomplishments as an Illustrator and Writer: I self-published, illustrated and wrote a comic book called The Adventures of Rank Johnson, which you can still buy on eBay. Two publishing companies hired me to illustrate two different children's books, including Like Pure Gold from Bellwood Press. In total, I've illustrated four children's books and was an assistant art director to Mel Williamson for Viking Press. Currently, I own my own company and market: Green Beans Solutions and It's About Time Advertising, which support this artistic endeavor. Please also see my attached early newspaper article in the famous New York Amsterdam News about my childhood artistic achievements at the age of 15.
Conclusion: History is full of ironies, and the winner always gets to tell their side of the story. It is disturbing to this artist/author that the legacy of General Jackson is shrouded in mystery. It is also disturbing that the so-called moral leaders of that time gave General Jackson's horse–Little Sorrel–a prominent gravesite and stuffed the skin of the horse for all eternity, and yet there is no trace of the body of Jim Lewis or a gravesite for him, Jackson's faithful servant, companion, and confidante who served by Thomas Stonewall Jackson's and who led his funeral procession.
Winning the great civil war that each of us fights within ourselves requires more heroism than swordsmanship, proficiency with a rifle, or strategic battlefield planning. Jim Lewis won that civil war. He was a good man. He was a good man in spite of negative circumstances. He won the inner battle between love and hatred, choosing love. He heroically fought the good fight that brings us all a little more light in the darkness. Raised in a system that hated and oppressed his kind, Jim obeyed the injunction that Dr. Martin Luther King was to express a hundred years later: "Returning hate for hate multiplies hate, adding deeper darkness to a night already devoid of stars. Darkness cannot drive out darkness; only light can do that. Hate cannot drive out hate; only love can do that."
Jim Lewis is an inspiration that fueled my desire for the last two years to complete over 100 illustrations. He embodied the humble and noble spirit that dwells in the African American, though some from his community called him an Uncle Tom, and he is so rarely depicted in the news media or in entertainment, which seems to glorify people who represent the very opposite. I hope my community someday desires to find Jim Lewis' burial site and place a grave headstone to honor a man of virtue, valor, and victory.
Jim Lewis had been put to rest in a neglected grave in the Colored Cemetery at Lexington without a head stone, but after the original colored cemetery was closed, his remains were taken to Evergreen Cemetery. To my knowledge, he still does not have a gravestone at Evergreen Negro Cemetery in Houston, Texas.
General Thomas Stonewall Jackson's would be please to know his faithful Black Confederate friend, Jim Lewis, was given some respect and honor as a noble man of character, who would have been a great politician, had he lived today.